Summer Success Scholarship
---
New summer scholarship! The Summer Success Scholarship was created as a way to allow students to be able to attend Summer Session courses to ensure their continued academic success and graduate on time. The scholarship award amount is up to $2,500 and is designed to cover Summer Session tuition and mandatory fees. Students can apply on ScholarshipUniverse from January 20th through February 12th.
Eligibility Criteria:
Current enrolled undergraduate students
Minimum enrolled units across all three summer sessions: 8 Units
No minimum GPA required
No requirements to comply with SAP
Demonstrated financial need as determined by the Office of Financial Aid and Scholarships
Continuing Student Scholarship Application Period
---
The 2023-2024 UCI Scholarship Application is now open!  Apply now through February 12th!
UCI Scholarships on ScholarshipUniverse
---
UCI Scholarships is now using ScholarshipUniverse for students to apply and match to campuswide and external scholarships. Now, with ScholarshipUniverse's matching tool, students will no longer have to search through each scholarship to see which ones they qualify for. External scholarships are vetted through ScholarshipUniverse, so students can rest assured that the external scholarships they are applying for are safe and trustworthy. Below are some quick steps to get started:
How to Set Up Your Profile and Apply
---
Step 1: Student Log In
Students can log in to ScholarshipUniverse with their UCInetID and password.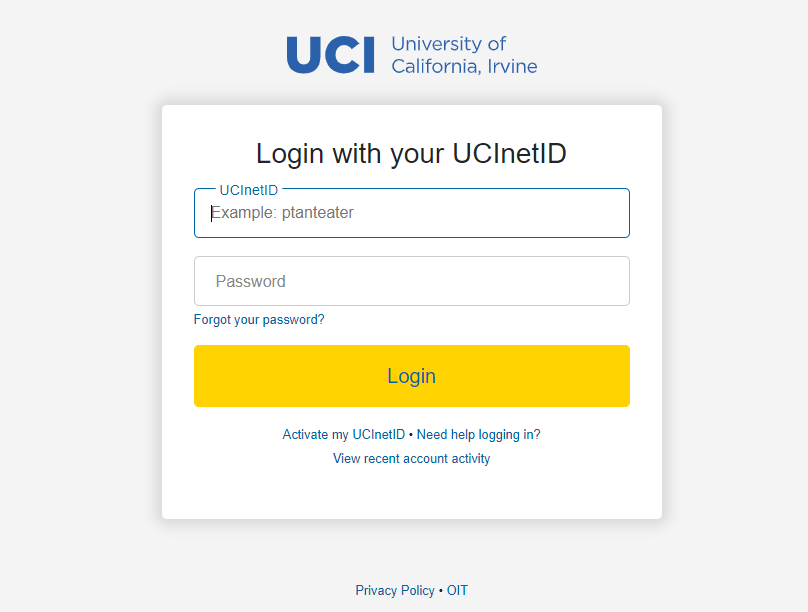 Step 2: Set Up Profile 
On initial log in, students will be directed to a welcome page where they will be asked to fill out basic questions to help match them to available scholarships.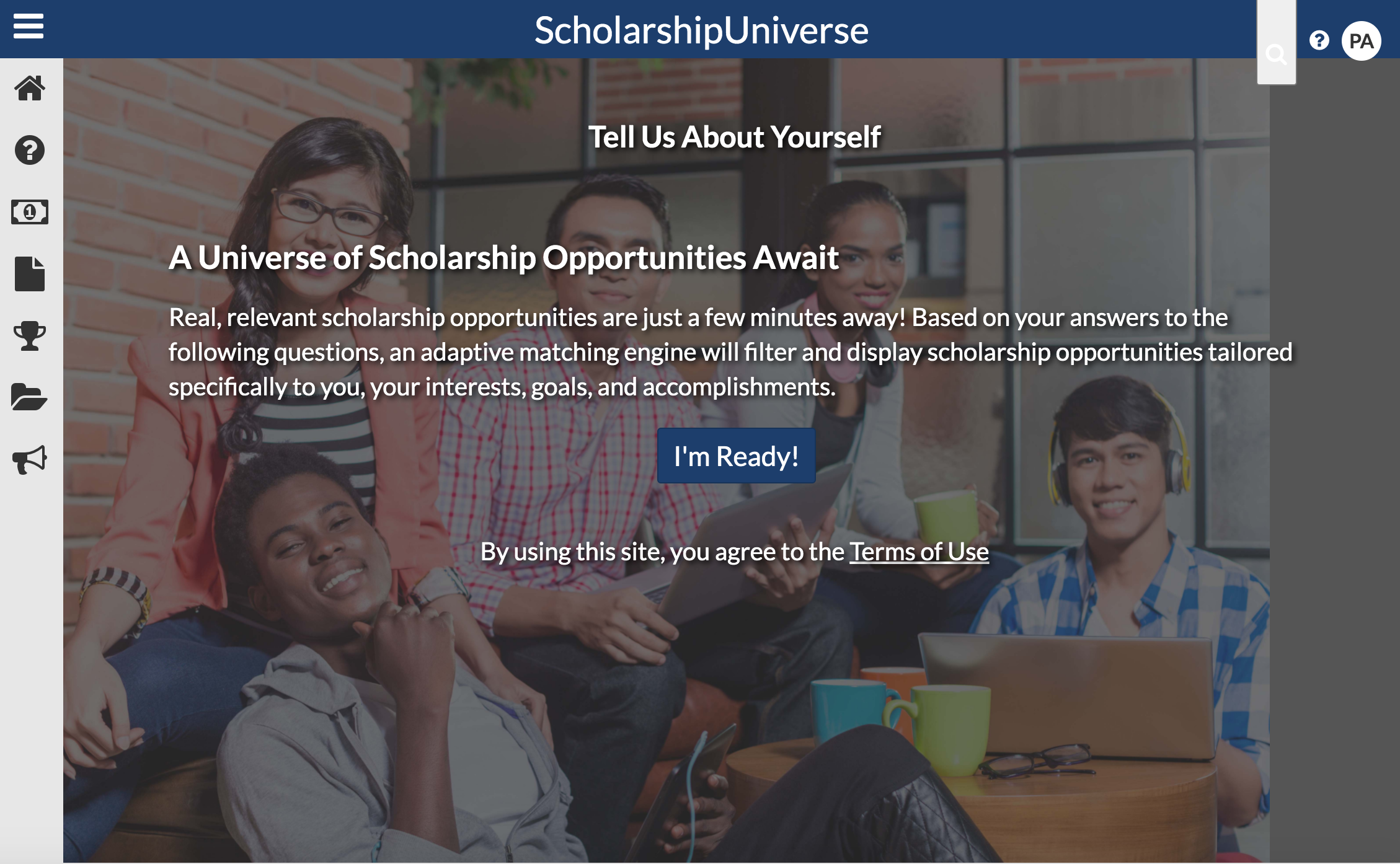 Step 3: View Dashboard 
Once students finish their profile, they will be directed to their dashboard that will show them all of the campuswide and external scholarships that they match with at a glance.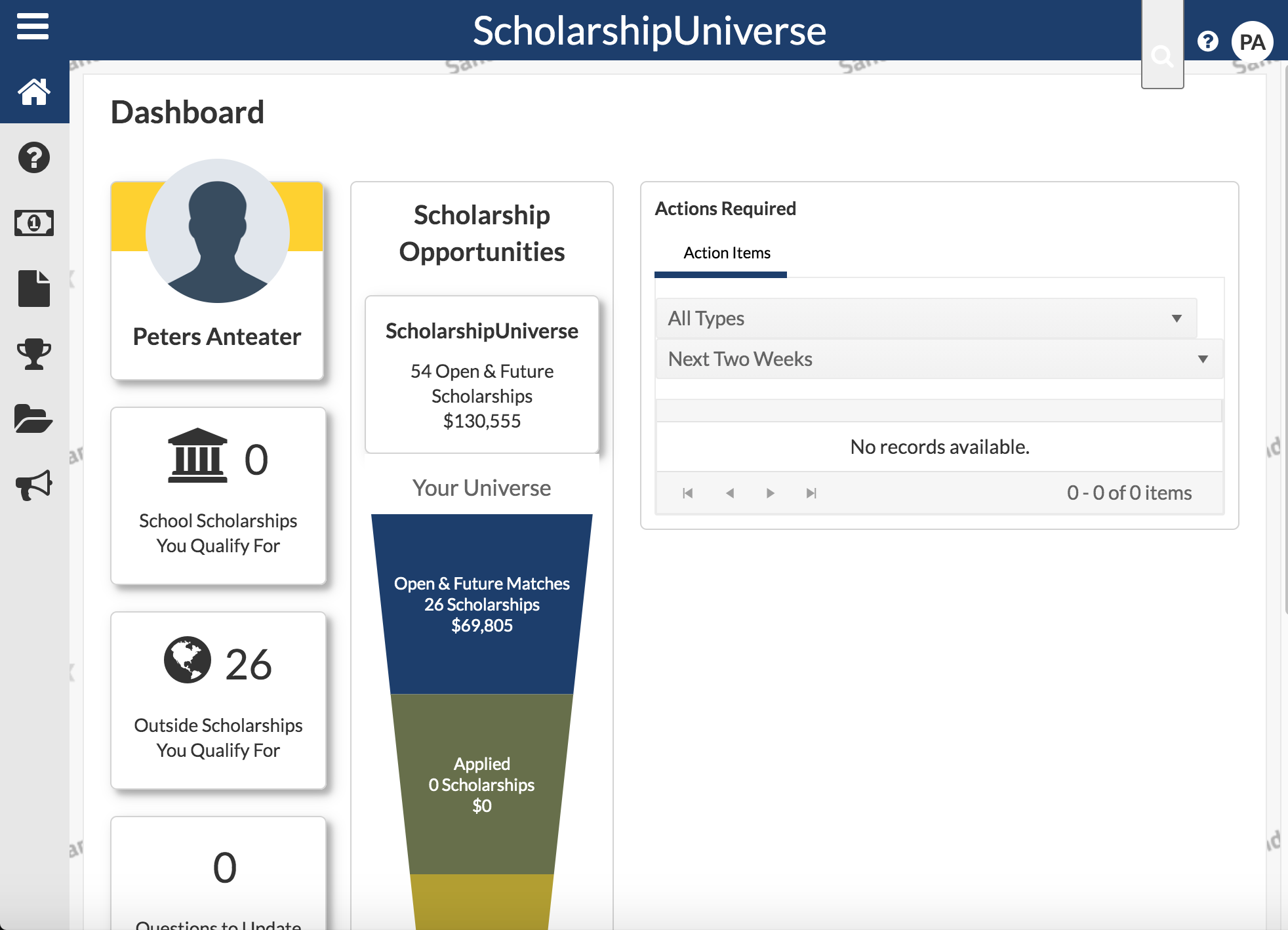 Step 4: Apply for scholarships
Students will be able to see a full list of scholarships that they can look through and decide which ones they want to apply to.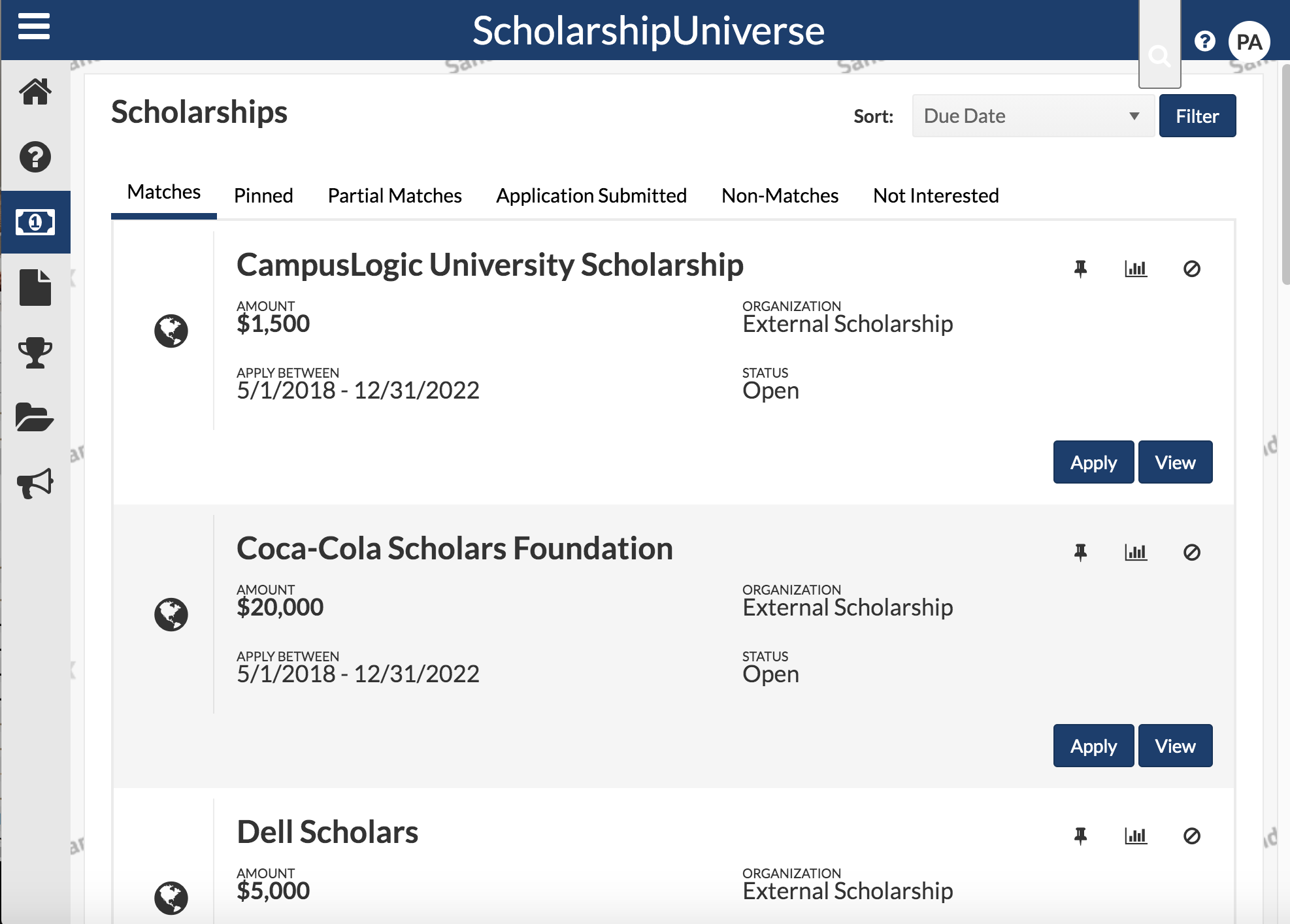 On this page, there are several tabs students may view:
The Matches tab will show students all the scholarships that they match with 
The Pinned tab contains scholarships that students have marked that they are interested in applying to 
The Partial Matches tab contains scholarships where students have answered some, but not all of the matching questions. Once the student answers all the matching questions, the scholarship will move to either the Matches or Non-Matches tab. 
The Application Submitted tab allows students to view scholarships they have applied to 
The Awarded tab shows students the scholarships they have been awarded
The Non- Matches tab lists the scholarships the student in not eligible to apply for
The Not Interested tab contains all the scholarships the student has selected as not interested in applying to. 
UCI Scholarship Disclosure
---
---
Writing a good scholarship answer:
Respond to the question asked.
Each question on the scholarship application is designed to provide insight regarding one or more of the scholarships offered by our office.
Go into depth and detail regarding your experiences and involvements.
Discuss activities, what do they mean to you, and what impact have they had on your life.
Restrict storytelling and extraneous descriptions unless the question asks for it.
Continuing Student Scholarship Application Period
---
January 23 - February 12, 2023
New Student Scholarship Application Period
---
May 1-31, 2023
Previous SU Presentation
---
Watch our previous presentation about ScholarshipUniverse
Join us on Discord
---
Get to know more about scholarships on our Discord